August 2017
Winchester Target Load in stock, Special SALE!
Surprice! There are two Winchester Target Load on SALE.
1. Super Target 12GA 7-1/2″ (shotsize) 2-3/4″(length) 1145Fps 2-3/4(Dram)
2. Super Target 12GA 8″ (shotsize) 2-3/4″(length) 1145Fps 2-3/4(Dram)
Buy 1 case, get 10%OFF
Buy 5 cases, $72/case.
(Original price: $11.99/box)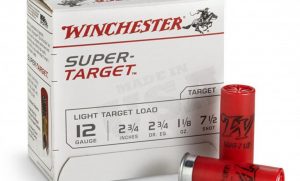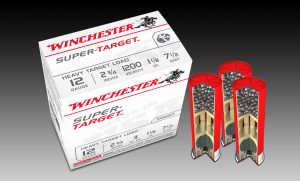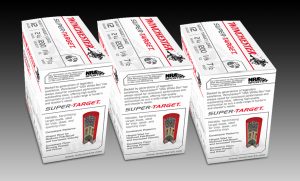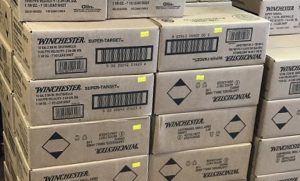 What is FWID?
Fish & Wildlife ID (FWID)
You need a FWID to apply for Limited Entry Hunting or to buy a hunting licence.
Your FWID is a permanent number linked to your personal online profile. It replaces the old B.C. resident Hunter Number card. If you already have a Hunter Number, your new FWID will be the same number with three extra digits.
Your legal name must appear on your Fish and Wildlife profile. Nicknames are not acceptable. You can make changes to your personal information (Name or Gender) at any time. If you are making a change, you will be required to provide supporting documentation, whether you make the change online or at a Service BC or FrontCounter BC location.
The FWID is not a card. You can either print it or download a copy onto your mobile device. You must carry or know your FWID number while you are hunting in B.C. Conservation Officers can ask you to provide photo ID and your FWID number, so they can find and view your profile on their mobile devices.
There is no cost to get a FWID.
If you have forgotten your Hunter Number or FWID, contact a FrontCounter BC Customer Service Assistant.
The old Hunter Number card looks like this:
The new Fish & Wildlife ID looks like this: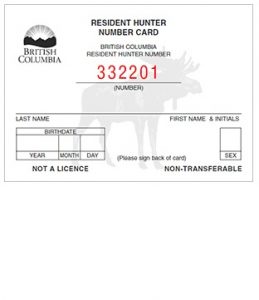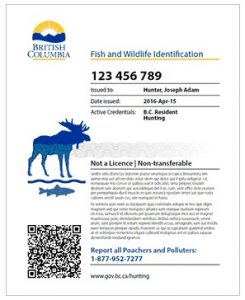 Angler Number
The FWID does not replace the Angler Number. Freshwater anglers will continue to use their Angler Numbers to purchase angling licences.
First Nations Hunters
First Nations hunters need a FWID if they wish to apply for Limited Entry Hunting.
FrontCounter BC:
Phone
Toll free: 1-877-855-3222
From outside North America: ++1-778-372-0729
Email
FrontCounterBC@gov.bc.ca
In Person
Come and visit one of our many Locations across BC